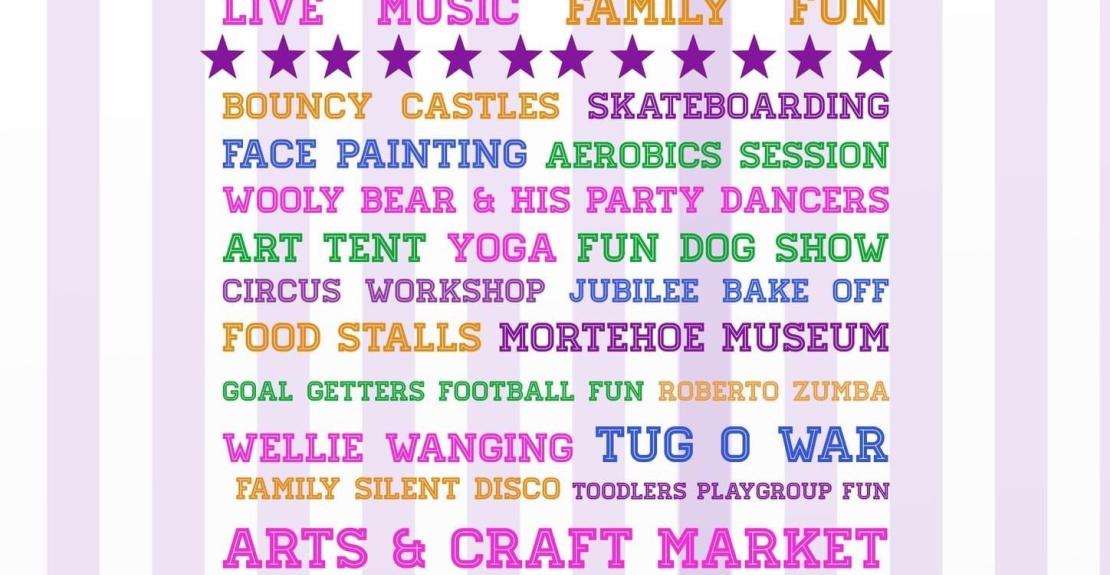 A 2 day event for the community to reconnect and celebrate the Queen's Platinum Jubilee.
Everyone Welcome!
Activities for all, including craft market, Jubilee themed Bake Off, Fun Dog Show, Kids Circus Workshop, Skate Jam, Wellie Wanging, Face Painting, Tiny Turtles Playgroup Fun, Kids Football, Mortehoe Museum, Battlezone Arena, Tug of War, Village Stocks, Kids Craft Tent, Bouncy Castle, Yoga and Pilates sessions, Zumba, a raffle on each day, 

plus lots more!
Food stalls from Futures Farm BBQ, Stuft Street Food, Wings and Things, Ice-Creams, Cream Teas, Cakes & licensed bar; Tatie Trap.
FREE ENTRY - ALL WELCOME.
Although this is a free community event we please ask you to bring cash with you for anything you may wish to purchase. 

Alongside the free activities, displays and performances there will also be paid for activities taking place, food and drink stands, market traders and charity donation buckets of which not all will be able to accept card payments.
Friday 3rd June
12.00 Jubilee themed walking procession from the bus turning area at Combesgate (opposite The Watersmeet Hotel) to Woolacombe Meadow. 
Whether you are local or just visiting, you are all welcome to join the procession… the more the merrier – wave a Union Jack flag, or go the whole hog in fancy dress … the choice is yours!
12.45 Commemorative Aerial Photo
12.45 - 16.00/17.00 Cream Teas & Refreshments in The Pavilion
13.00 Anchors Aweigh Local Sea Shanty Group
14.30 Zumba
15.15 - 15.45 Pilates with S G Pilates
16.00 - 17.00 Family Silent Disco
17.30 Raffle 
18.00 - 19.30 Zamba - Acoustic Reggae Set
19.30 DJ Andy Hawkins
20.30 til late Woolacombe Rocks Silent Disco
Saturday 4th June 
12.00 - 16.00/17.00 Cream Teas & Refreshments in The Pavilion
12.30 Fun Dog Show
Categories:
12.30 - Handsomest Prince
12.50 - Prettiest Princess
1.10 - Jubilee fancy dress (dog & owner)
1.25 - Best in show (1st – 3rd place dogs from each category)
£1 per dog per class (all proceeds going to the Woolacombe Community Fund)
Tickets can be purchased prior to the dog show category you want to enter from the Arena.
Prizes awarded for 1st - 3rd in each category.
The Dog Show will be sponsored by Koola Dogz from South Street, Woolacombe and Canine Country Styles Mobile Dog Grooming.
13.15-13.45 Yoga with S G Pilates
13.30 Woolacombe & Mortehoe Platinum Jubilee Bake Off
Categories:
Adult's - Victoria Sponge
Under 12s children's category - Decorated Cookies.
Please drop off your entries to the Meadow Pavilion by 1.30pm.
Judging, by Mortehoe WI, will commence at 2pm, with the winner announced later in the afternoon!
14.00 Live Music with Jenna
15.00-15.20 Mindful Meditation with S G Pilates
15.30 Live Music with the Ilfracombe Academy Band
16.30 - 17.30 Family Silent Disco
17.30 Raffle
18.00 - 19.30 Live music with Small Town Jones
19.30 - 20.30 DJ 
20.30 til late Woolacombe Rocks Silent Disco
21.15/30 Firework Display
FREE ENTRY - ALL WELCOME