There are several beaches in and around Woolacombe and Mortehoe just waiting to be discovered - each offers something different, so well worth taking the time to explore!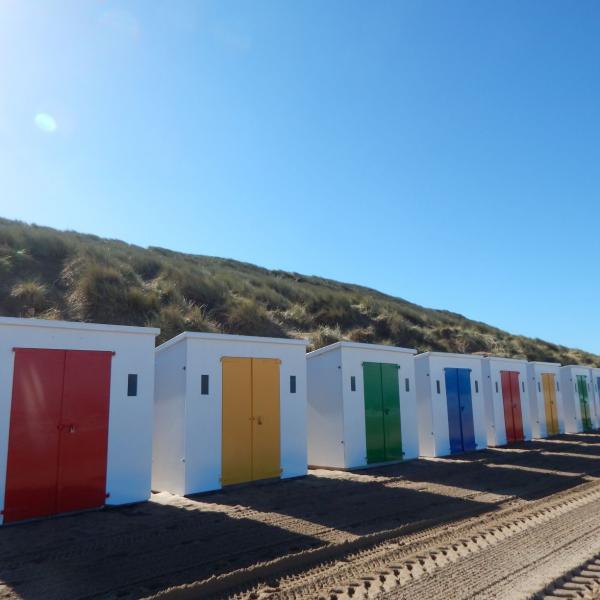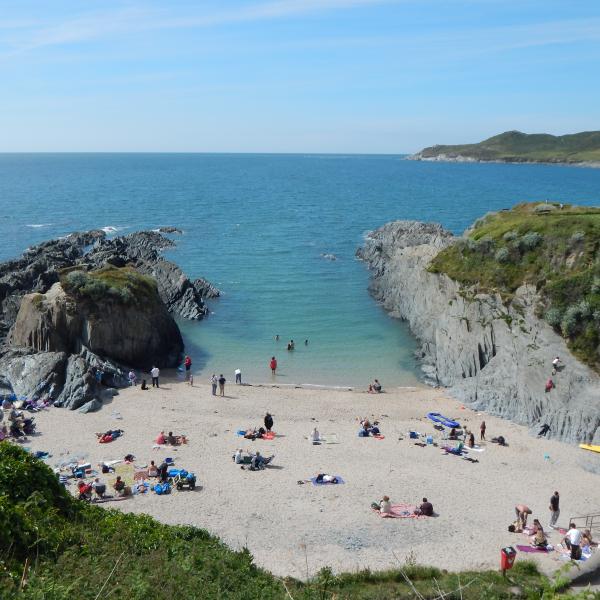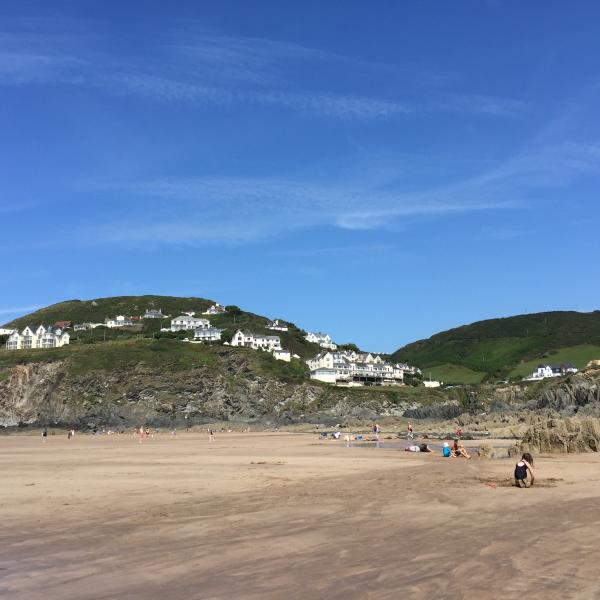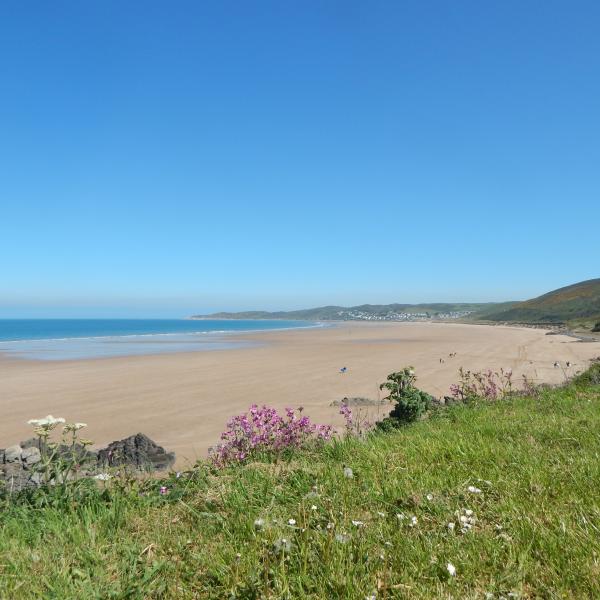 Woolacombe Beach
Renowned for it's good water quality, cleanliness and golden sands, Woolacombe Beach is almost 3 miles long and stretches south towards Putsborough Sands. Surfing and bodyboarding are popular activities here, and you will find plenty of outlets close-by, either hiring or selling everything you could need for a day at the beach. There is plenty of room for everyone, and we recommend heading towards the middle of the beach past Mill Rock to avoid the crowds on a hot summer's day! 
There are toilet facilities at both entrances to the beach, and during the season, there are catering and ice-cream vans on the beach. RNLI Lifeguards are present every day from Easter to October, making Woolacombe Beach perfect for a family day out at the seaside.
Woolacombe's iconic Beach Huts are available to hire from late May - early September. They are taken down, and stored over the winter to keep them safe from storms and high tides. Deck chairs are also available to hire as you go on to the beach
The beach is dog friendly all year round, although there are some restrictions in place from Easter - October. PLease follow the link for more details: https://www.parkinestates.co.uk/sites/default/files/inline-files/ParkinEstates-DogMap%20REVISED%20DATE_0.pdf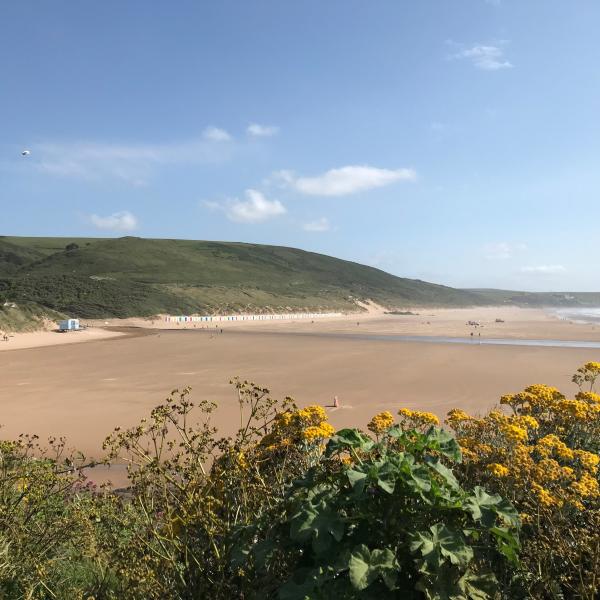 Putsborough Sands
Putsborough Sands is located at the southern end of Woolacombe Beach, sheltered beneath the stunning headland of Baggy Point.  Accessed via country lanes, it can be quieter than Woolacombe, but equally family friendly and great for surfing too. With a cafe, beach shop, surf hire and award-winning toilet facilities, it is perfect for a day out. 
There is a large car park above the beach, for which there is a daily charge.
Putsborough is dog friendly all year round, except for the far left of the beach from Easter until 1st November - See local signage at the beach entrance.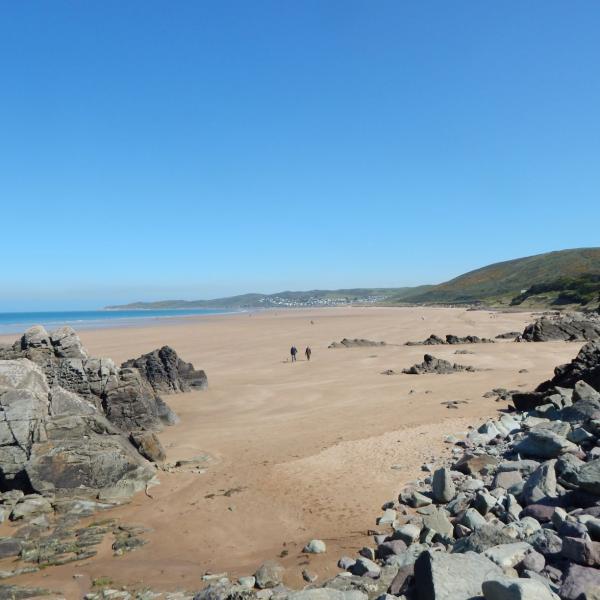 Barricane Beach
You'll find Barricane nestled below The Esplanade, past the rocks at the end of the main beach. If you park in the main beach car park, it is just a few minutes stroll away.
Barricane is a designated Site of Special Interest, due to the tons of beautiful, tiny shells of all shapes and colours that wash up with the tide in to this small inlet. At low tide, there is golden sand, and plenty of rock pools waiting to be explored. 
The nearest toilet facilities are either by the main beach car park, or above Combesgate Beach - a 5 minute walk in either direction. 
The little beach cafe is in situ from around Easter to early September. Offering ice-creams, hot and cold drinks and lunches during the day, and serving their infamous Sri Lankan Curries in the evening, weather permitting. Take a blanket or beach chair, so you can sit back, relax and enjoy the view - the sunsets here can be stunning! At the end of the Summer, the cafe is craned away to protect it from the elements over the winter months.
Dogs must be on leads in the Summer.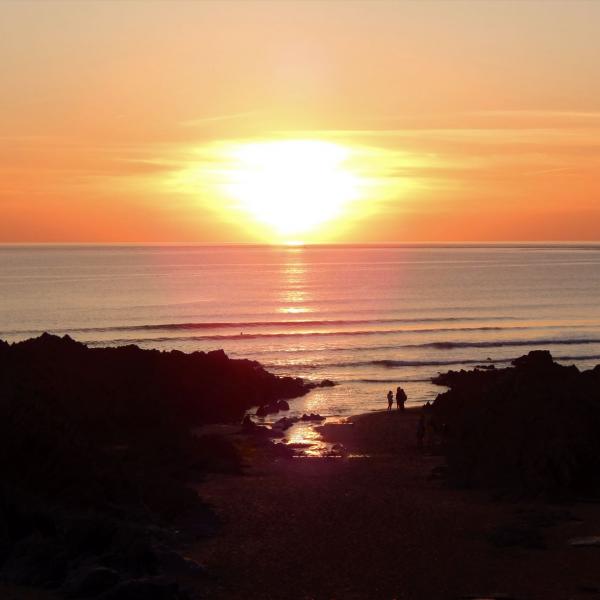 Combesgate Beach 
Combesgate is made up of fine golden sand, a paradise for swimmers and surfers alike. 
Accessible via steep steps (or from Barricane Beach at low tide), this is a lovely secluded bay, located at the far end of The Esplanade in Woolacombe.
There are toilets opposite the beach. Parking is either on The Esplanade, or in the main beach car parks, a ten minute stroll away.
No dogs are allowed in the Summer.
Grunta Beach 
Grunta is a tiny secluded cove, accessed from the coastal path on Morte Point. It earned its' name when a ship with a cargo of pigs ran aground there. It's hard to reach but worth the effort for it's peace and tranquility, Best visited at low tide.  Dogs welcome.
Rockham Bay
Rockham Beach is currently inaccessible due to a rock fall beneath the beach access steps, making them unsafe. The coast path is unaffected.