Woolacombe and Mortehoe are very dog friendly areas with plenty of walks for you and your dog to enjoy.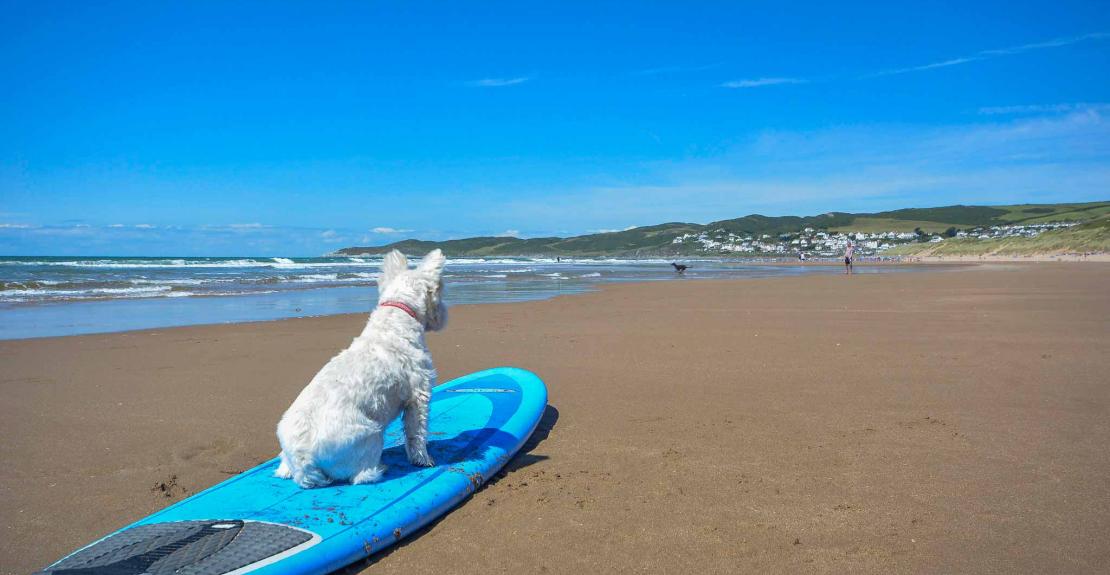 Beaches
Woolacombe Beach: Dog Friendly all year round! Some restrictions apply during the main season - Dogs are not allowed between the rocks at the north end of the beach and the stream from Good Friday or 1st April (whichever is earliest) until 30th September. This is a very small area in comparison to the size of the beach.  Dogs must be on leads from the stream to Mill Rock from the same dates, but may be exercised without restriction from Mill Rock onwards. (Restrictions in place from 9am-6pm).
https://www.parkinestates.co.uk/sites/default/files/inline-files/ParkinEstates-DogMap%20REVISED%20DATE_0.pdf
Barricane Beach: Dogs are allowed but must be on leads when the cafe is in situ (usually March - September). Please check the signs as you go on to the beach. 
Combesgate Beach: Dogs are not allowed on the beach from 30th April - 30th September
Grunta Beach: Dogs are allowed on the beach at any time of year
Rockham Bay: Currently inaccessible to people and dogs!
Putsborough Sands: Zone A (south of steps): No dogs allowed from 1st April - 30th September, Zone C: Dogs allowed
Lee Bay (Between Woolacombe & Ilfracombe): Dogs allowed.
Croyde Beach: No dogs allowed in the main season. dogs allowed 1st October - 30th April
Saunton Sands: Dogs are allowed, with certain designated restrictions in the main season, similar to Woolacombe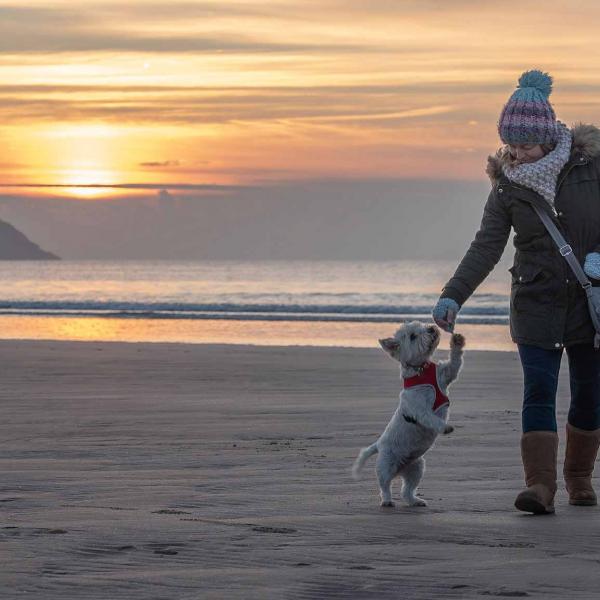 There are plenty of lovely dog walks for you and your dog to enjoy apart from the beach!
The South West Coast Path runs in both directions from Woolacombe; to Croyde via Baggy Point, and to Lee and Ilfracombe via Morte Point. These sections fo the coast path are managed by the National Trust. Dogs must be kept on leads as there is often livestock kept there, and be aware of cliff edges and steep drops.
Potters Hill and Woolacombe Downs above the beach is also another favourite walk with stunning views of Woolacombe Bay, Baggy Point, Morte Point and Lundy Island, Again, please keep your dog on a lead as the National Trust have Exmoor Ponies grazing there, as well as sheep and cattle.
The Old Railway Line that runs down to Ilfracombe from the top of Woolacombe (start at either Willingcott or Lee Bridge) - this is perfect on a hot day as parts of the walk in the shade of the trees.
Detailed walking books and maps are available from Woolacombe Tourist Information Centre, or from our online shop.