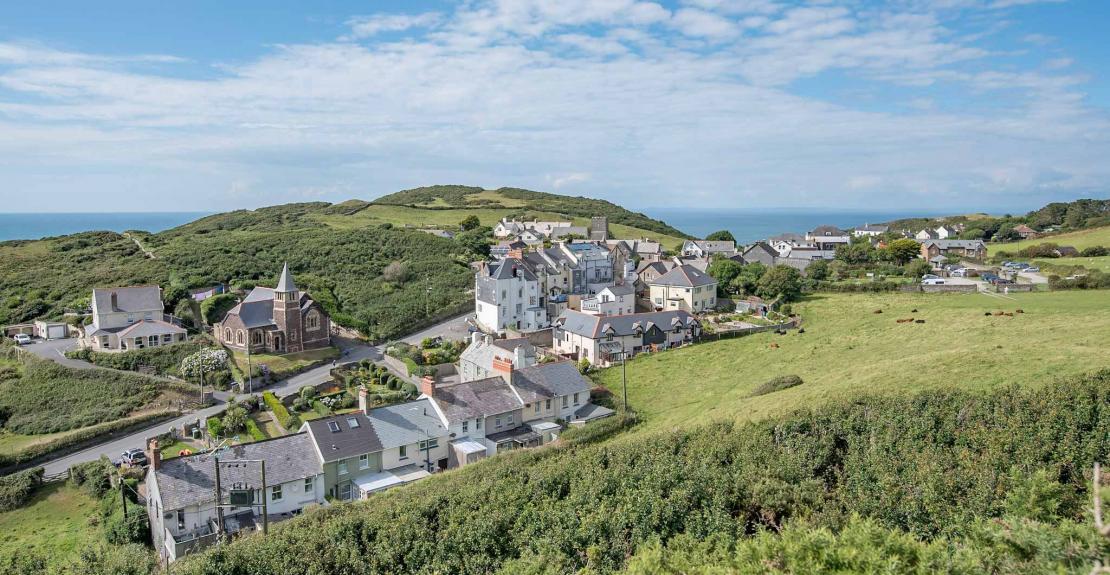 A calm cliff top village with spectacular views
Less than a mile from Woolacombe, Mortehoe is listed in the Doomsday Book and has a number of interesting features including a rare barrel-roofed thirteenth-century church.
Mortehoe tends to be quieter than Woolacombe; it's pretty cottages reflect the village's history, and the wild and rugged coast line here offers some dramatic walks with spectacular views.
Above the rocky beaches stand the hill-sides and cliff-tops along which walkers can explore the wonderful scenery which is part of the SOUTH WEST COAST PATH. After a coastal walk or a day on the beach, why not enjoy some well-earned refreshments - lunch and a pint, a cream tea, an ice-cream, pasty, fish and chips, seafood platter, barista coffee or an evening meal - it's all here! 
Visit Mortehoe Museum which gives a glimpse of Old Morte and the days when smugglers lured ships onto the rocks. It's a real treasure trove of local history and has fascinating exhibits on agriculture, tourism, ship wrecks, wartime and more. In the summer you can take a tractor and trailer safari out to Bull Point or Morte Point, starting from the Museum. There is also a lovely children's play area outside the Museum, complete with picnic tables.
Mortehoe is surrounded by wonderful scenery, much of it part of the Voluntary Marine Conservation Area, which is a haven for wildflowers and animals which fill the area with colour and movement. A walk on Morte Point is highly recommended - keep your eyes peeled for our lovely Atlantic grey seals who can often be spotted basking on the rocks or bobbing around in the sea on the north side of the Point.
Whenever you choose to visit Mortehoe you can be sure of a friendly welcome from the locals who will be proud to show you their sunny corner of North Devon.
Accessibility: For information on accessibility, please email us and we can send you the relevant local information. [email protected] or follow the link for the latest National Trust Accessibility Guide to Mortehoe https://www.nationaltrust.org.uk/documents/access-guide/1431741535400-mortehoe.pdf