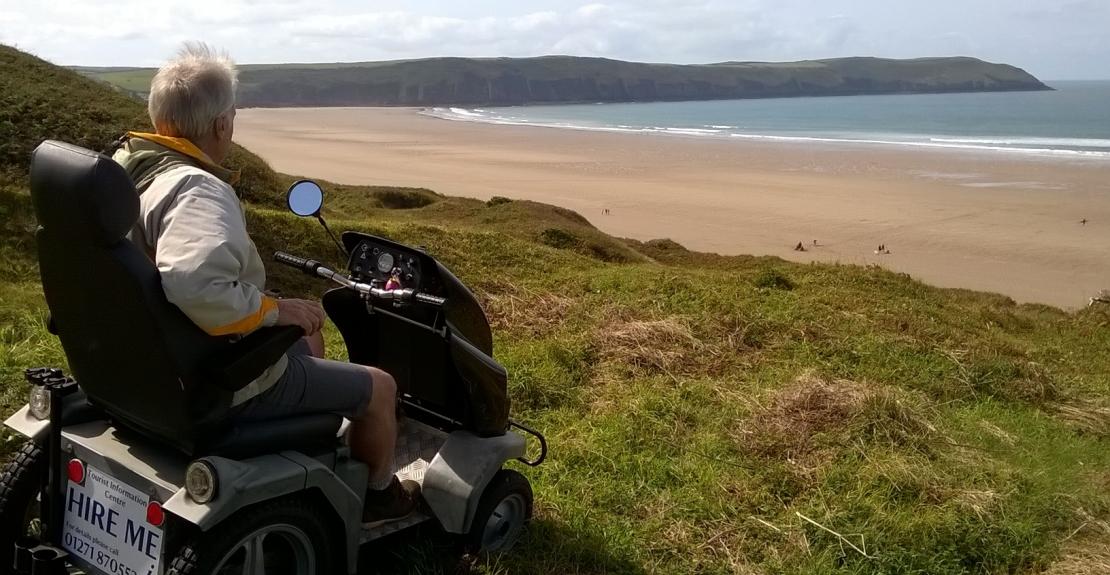 Mobility Equipment Hire
A 'Tramper' (All-Terrain Mobility scooter), is available for hire from the Tourist Information Centre, to allow access on to the beach. (Please note: Scheduled upgrades to our 2 other routes are currently in progress, but we hope to have them available again soon).
The cost of hire is £5 per 2 hour session (plus Membership Fee for the Countryside Mobility Scheme if not already members - costs £3 for single use / £5 for a two week taster membership / £15 for an annual membership).
The Tramper can only be hired for two hours at a time - it needs to return to the TIC for charging in between the morning and afternoon sessions.
Note that for safety reasons all users must be accompanied. Due to the larger, robust design of the Tramper scooter it is not suitable for exploring the village itself. 
The hire facility has been made possible through partnership with National Trust North Devon and Woolacombe Tourist Information Centre. Many thanks for their support and commitment to improving accessibility in and around Woolacombe. Enjoy this fantastic coastal site!
For more information or to book (advance booking strongly recommended) please call 01271 870553.
For details on other Trampers in the area, go to  www.countrysidemobility.org/locations/
Also available to hire from Woolacombe TIC … a Beach Wheelchair, courtesy of Parkin Estates Ltd.  £8 per day. Call 01271 870553 or email [email protected] for information and bookings. (*Note: weight limit applies). 
Beach Wheelchairs are also available at nearby Saunton Beach.
For other mobility equipment hire, contact Braunton Mobility Centre on 01271 814577.